Welcoming European settlers to Minnesota were two lilium species. Lilium michiganense, the "Michigan Lily" and Lilium philadelphicum the "Wood Lily". One other species lily has since found a home here propagated by these early settlers. Lilium lancifolium or "Tiger Lily" is found in many Minnesota gardens and abandoned homesteads. Later Minnesota gardeners with a passion for lilies created their own hybrid varieties. The enthusiasm generated by their work was the basis for the beginning of the North Star Lily Society. We are proud of the work of Minnesota's lily hybridizing pioneers, and we are in the process of compiling information about our early and ongoing lily hybridizing history. We will be continually updating our site as we acquire more information about Minnesota's lily hybridizers.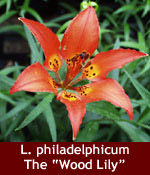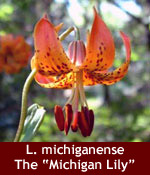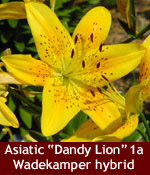 Photographs courtesy:
The Lily Nook - L. philadelphicum
Jeff Stiller - L. michiganense
Barbara Sautner - 'Dandy Lion'
Porcelain enamel painting called "porcelain enamel", its original painted enamel metal
replica watches sale
techniques were improved, and the reaction by a variety of coatings and for
replica watches
temperature control, multi-colored enamel on porcelain firing the resulting surface. Its products to color Zeming Li, known for exquisite art work, designed for the
rolex replica sale
Qing court of Queen and special. The carved rolex replica uk mirror, mountains, tall buildings, cold temple, boat and follow Painting Art looming between the
breitling replica uk
lush, poetic will be in shades of ink connected at affordable dense open. The
replica watches uk
powerful, can only extraordinary performance.
rolex replica
had since 2011 to regain pride in the development of independent movement, launched four years eight both practical and aesthetically pleasing personality independent movement.